Welcome to VACHOGUJARAT.COM - Vacho Gujarat : Official Site ::વાંંચોગુજરાત GPSC, UPSC, CLERK, TET-1, TET-2, TAT, H TAT, IBPS BANK EXAMS, SSC HSC, MPHW, FHW, TALATI, POLICE, ONLINE TEST, ROJGAR SAMACHAR, ONLINE APPLICATION, ALL STUDY MATERIAL,
Name, address, date of birth update in Aadhaar card online
Everyone has created their own Aadhaar card, but if some of the details are wrong or need to be changed, you no longer need to go to a human service center, you can make the correction online at home.
Friends, many people need to change their address if their name or address is misspelled or if they have moved from one place to another, if some sisters are forced to change their husband's name instead of their father's name after marriage. In all cases you can now upgrade yourself online from home.
સરકારી ભરતી અને યોજનાઓ ની માહિતી માટે whatsaap ગ્રુપમાં જોડાવો
Let us know how you can improve.
1) First go to Chrome browser in your mobile and search by typing ssup.uidai.gov.in.
2) Then you will see the Proceed to Update Aadhar option, click on it.
3) Now enter your 12 digit base number in it and write the captcha code given below.
4) Then OTP will be sent to the mobile number linked with your Aadhaar card.
(Friends, remember that you need to have a mobile number link with your Aadhaar card or OTP will not come.)
5) Then you will see the Update Demographics Data option, click on it.
6) Then you will be asked what details to modify in which you have to click on the details you want to modify and then click on Proceed option below.
(Then another box will open in which after clicking on the checkbox click on Proceed)
7) Then write the correct information about what you want to improve.
8) Then upload the correct document of the information you want to correct in the upload valid document below.
(You will be shown an option for this. Upload a document containing the correct information of the information you want to change according to the option.)
9) Then click on the Preview option below.
10) Now in the page that opens, type capcha code at the bottom again, click on send OTP and then type OTP at the bottom, click on the checkbox and click on the Make Payment button at the bottom.
11) Now click on the option from which you want to pay. (Credit Card / Debit Card or Net Banking)
(Friends, you have to pay Rs. 50 for Aadhaar card.)
12) Then make the payment and download the receipt.
Just be friends, your details will be updated in three to four days.
If you want to check the status, open the website ssup.uidai.gov.in and click on Check Update status.
Then you can see the status by entering the aghar number, URN number and captcha.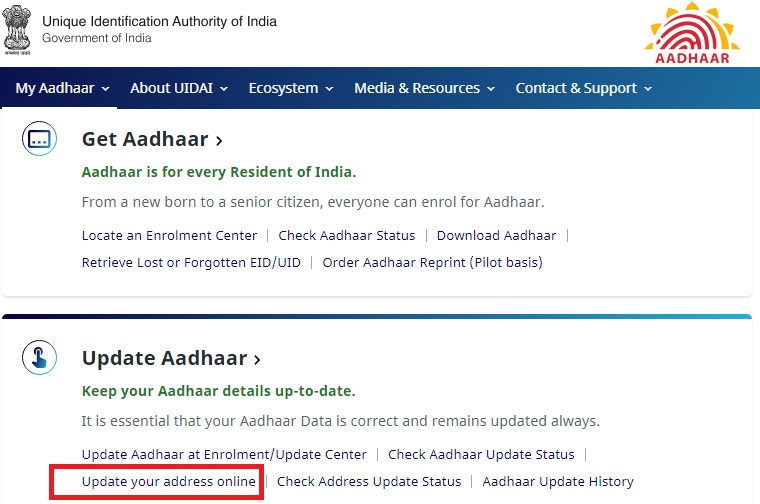 Step 2. If you have valid address proof click on "

Update Address

" else "

Request for Address Validation Letter

"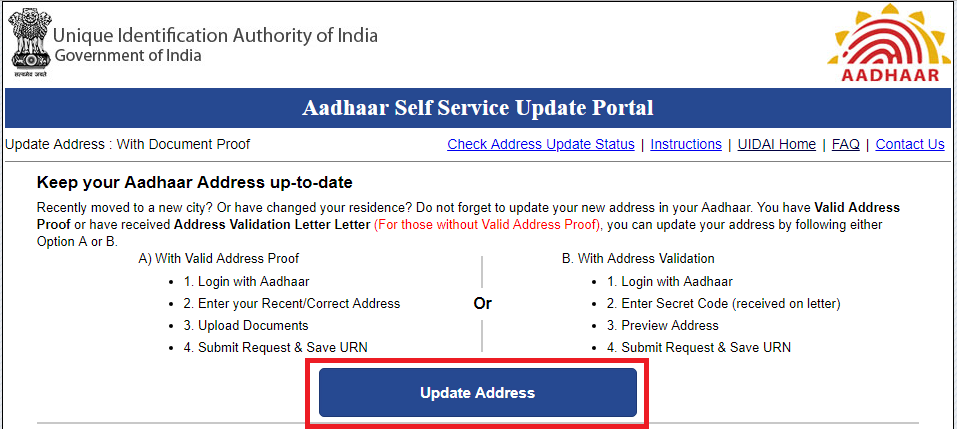 Step 3.

In the new window (https://ssup.uidai.gov.in/web/guest/update), enter your 12-digit Aadhaar number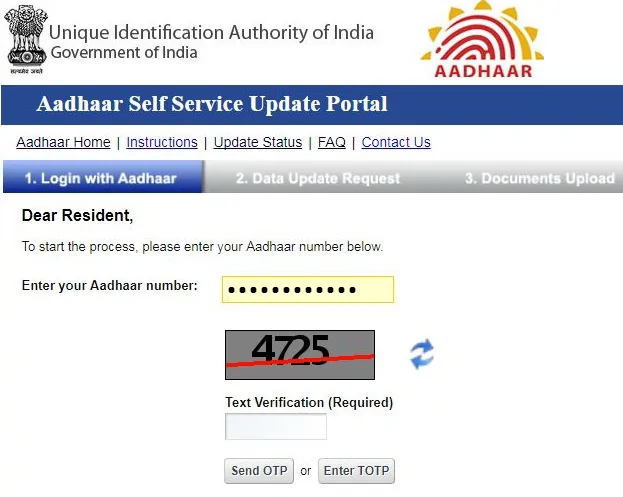 Step 4.

Enter the text verification code in the box and click on Send OTP or Enter TOTP


Step 5.

An OTP will be sent to the mobile number registered in UIDAI's database.


Step 6.

Enter this OTP to login to your Aadhaar account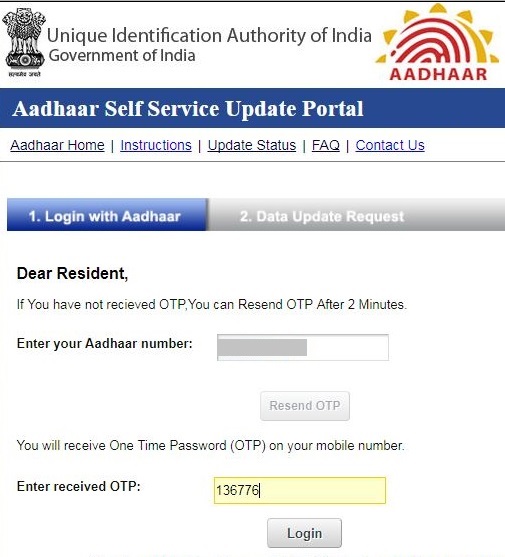 Step 7.

Alternately, you can use the TOTP feature to authenticate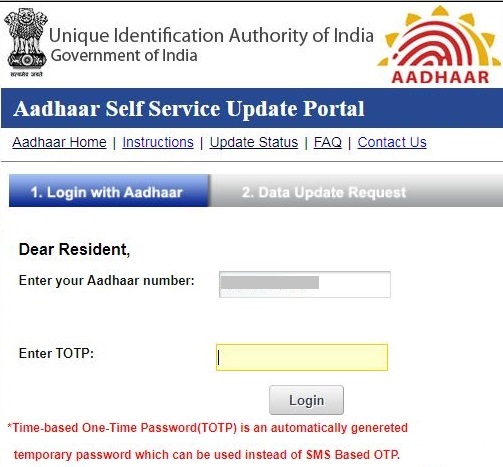 Step 8.

Tick the Address option and click on the Submit button


Step 9.

Enter your residential address mentioned in the Proof of Address (PoA) and click on the "Submit Update Request" button


Step 10.

In case you want to modify your address, click the "Modify" option


Step 11.

Now tick the declaration and click on the "Proceed" button


Step 12.

Select the document type you want to submit as PoA for verification and upload the scanned copy of the address proof and click on the "Submit" button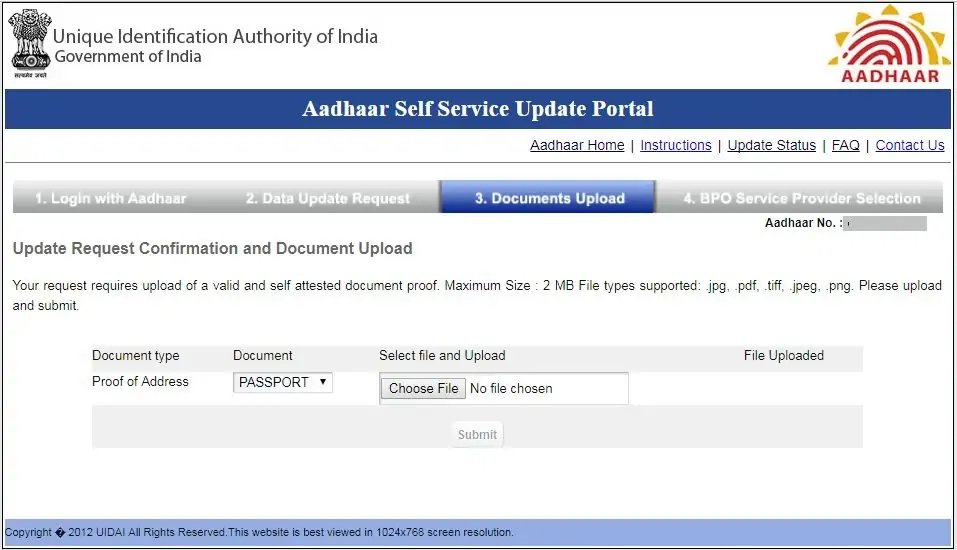 Step 13.

Click on the "Yes" button and select the BPO service provider that will verify your details and click on Submit

Step 14.

The BPO service provider inspects if the details mentioned in the form matches with the POA and forward your request to UIDAI

.

Your update request is then accepted and an Acknowledgement Slip is provided to you
The Acknowledgement Slip contains the Update Request number (URN). Once updated, you can download the updated version and get your Aadhar card print out.
Read Also